Revitalize your energy levels, enhance your mood, and nourish your skin with our Krill Oil Astaxanthin Omega 3 Fish Oil 500mg Softgels, which has been highly recognized for supporting circulation and memory.
Krill Oil Astaxanthin Omega 3 Fish Oil 500 mg Softgels
21
visitors are looking for this product right now!
Revitalize your energy levels, enhance your mood, and nourish your skin with our Krill Oil Astaxanthin Omega 3 Fish Oil 500mg Softgels, which has been highly recognized for supporting circulation and memory.
Do you suffer from any of the following issues?
Skin disorders (e.g. psoriasis, dermatitis)
AMD (age-related macular degeneration)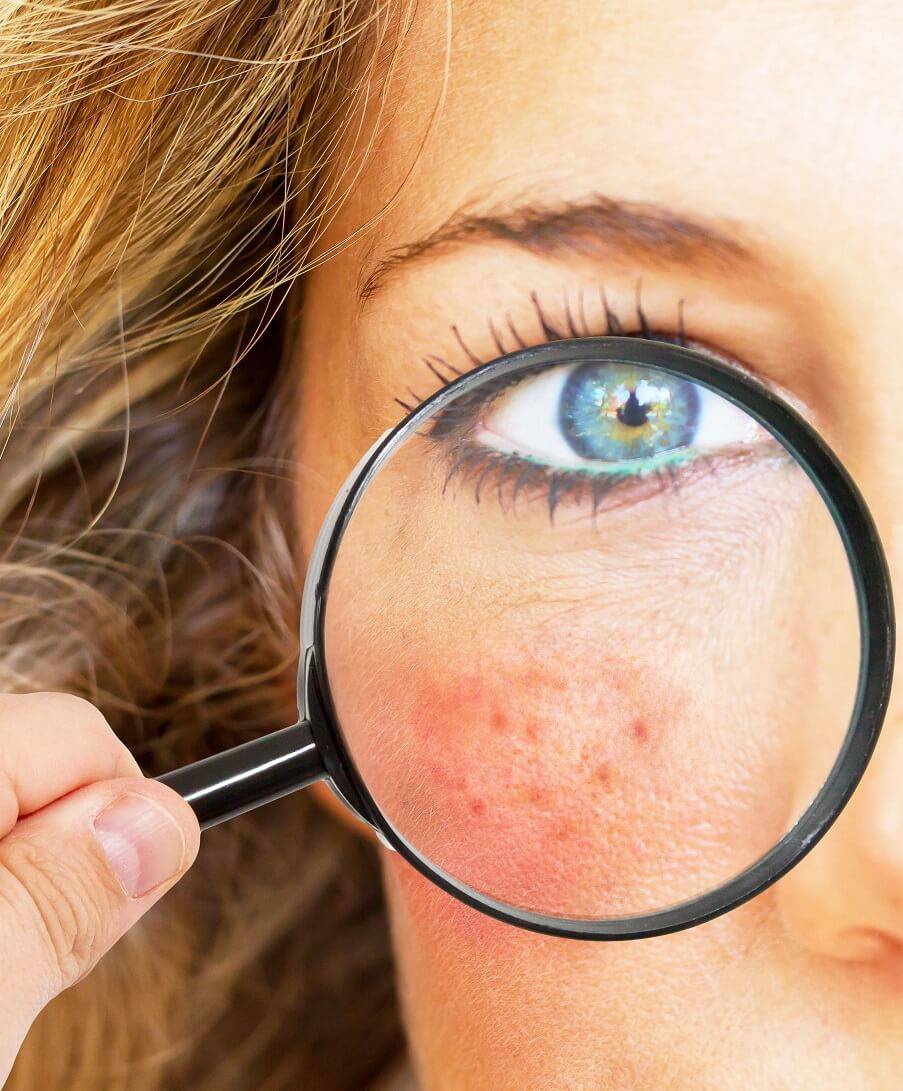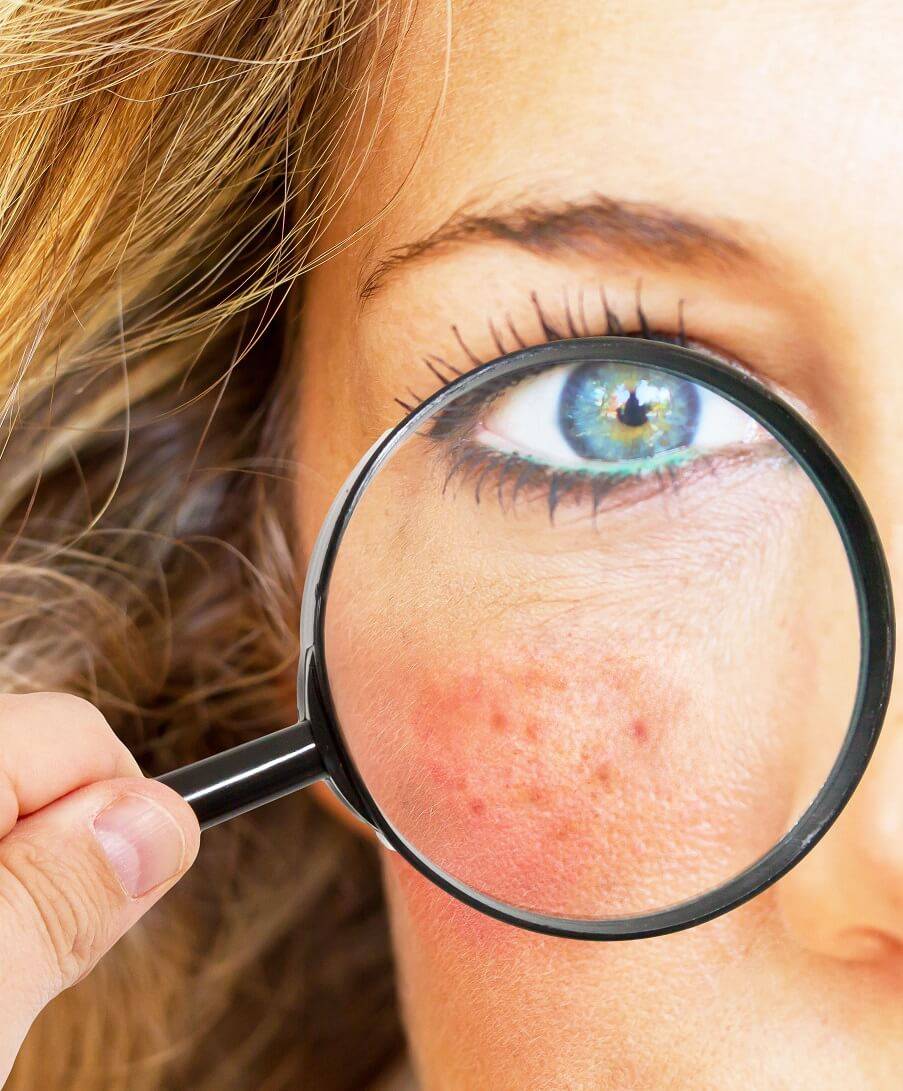 Fatigue

Dry skin

Mood swings or depression

Anxiety

Poor memory

Heart Problems

Poor circulation
If so, then Krill Oil Omega-3 could be one of the essential supplements to improve your overall health.
How can Krill Oil Omega-3 help you with this?
The World Health Organization (WHO) recommends every person consume around two portions of fish each week, as the omega-3s found in fish and other sea creatures are a key ingredient in living a healthy, balanced lifestyle. If you're vegetarian, vegan, or simply don't eat seafood, then you should receive your weekly intake of omega-3 through a natural supplement.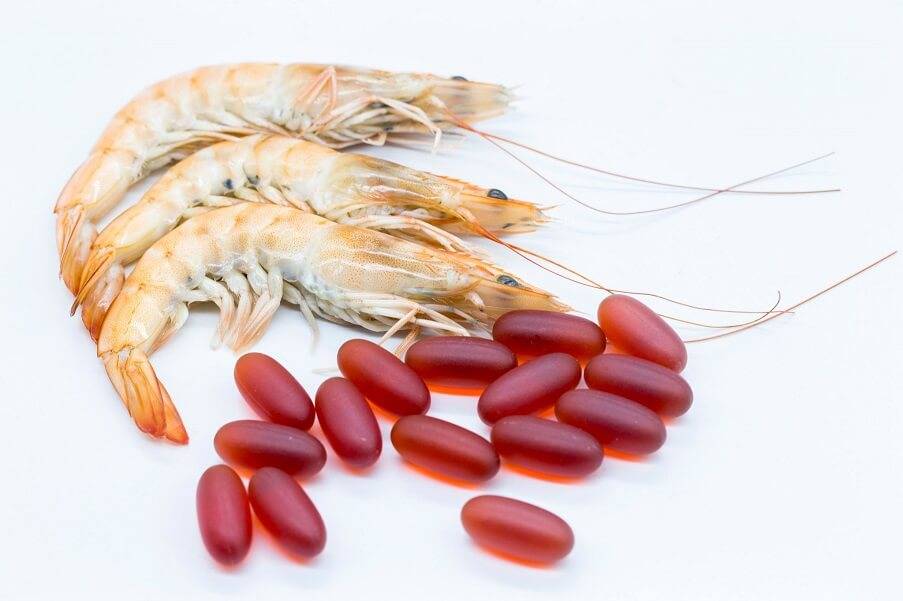 The omega-3 nutrients found in marine life are an important source of energy and have been scientifically proven to support your immune system. These nutrients are present in every cell wall in the body, and therefore play an important role in building and maintaining your natural defense systems.
One of the key health benefits of Krill Oil Omega-3 is that it reduces inflammation. Inflammation is our natural response to fighting infections and healing injuries. However, chronic inflammation is associated with numerous health disorders, including asthma, obesity, depression, and heart disease. By reducing inflammation, we can alleviate symptoms of these diseases.
Krill Oil Omega-3 has also been known to improve risk factors surrounding heart disease. Several decades ago, researchers noticed that fish-eating communities had unusually low rates of heart diseases and strokes. Since then, omega-3 fatty acids have been linked to numerous benefits for heart health, such as reducing triglycerides, lowering blood pressure, raising "good" HDL cholesterol levels, and clearing plaque from the walls of your arteries.
What are other benefits of Krill Oil Omega-3?
Krill Oil Omega-3 can be considered one of the fundamental supplements, in that it can be used to manage a wide range of health conditions. Some additional proven health benefits of krill oil include:
Emotional and mental wellbeing
Lower levels of liver fat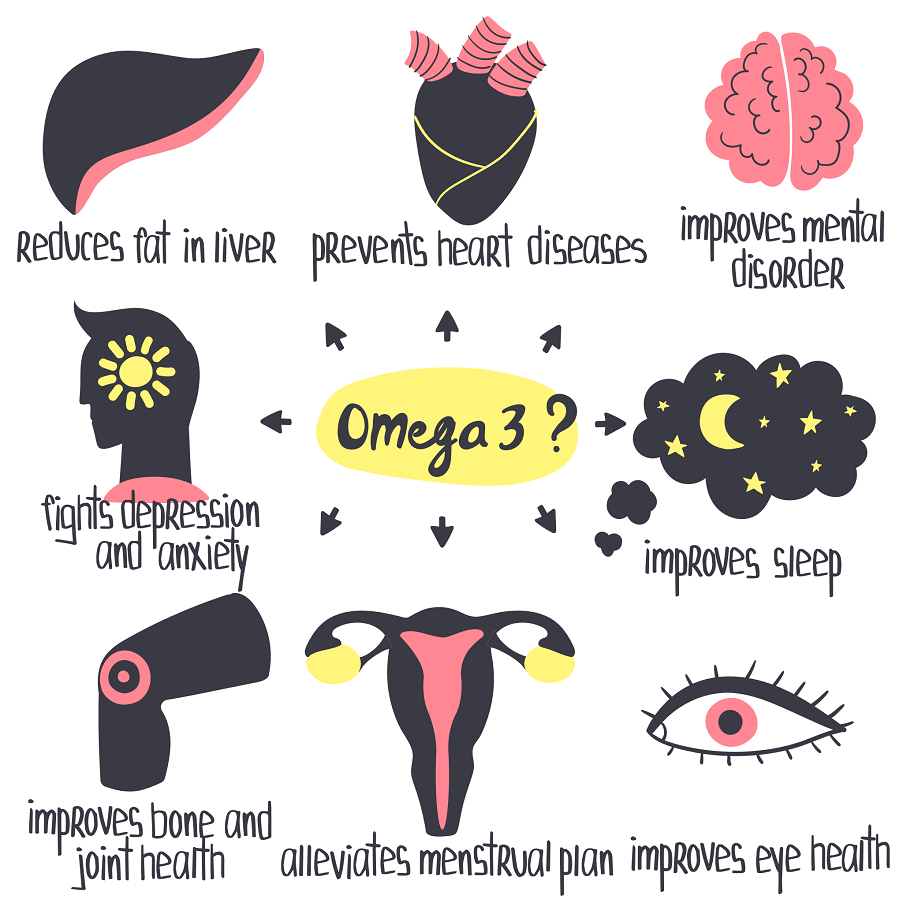 Reduces Depression and Anxiety

Promote Brain Health During Pregnancy and Early Life

Reduce Symptoms of ADHD in Children

Reduces Inflammation

May Improve Bone and Joint Health

Improve Eye Health

Improve Risk Factors for Heart Disease

Reduce Symptoms of Metabolic Syndrome

May Help Prevent Cancer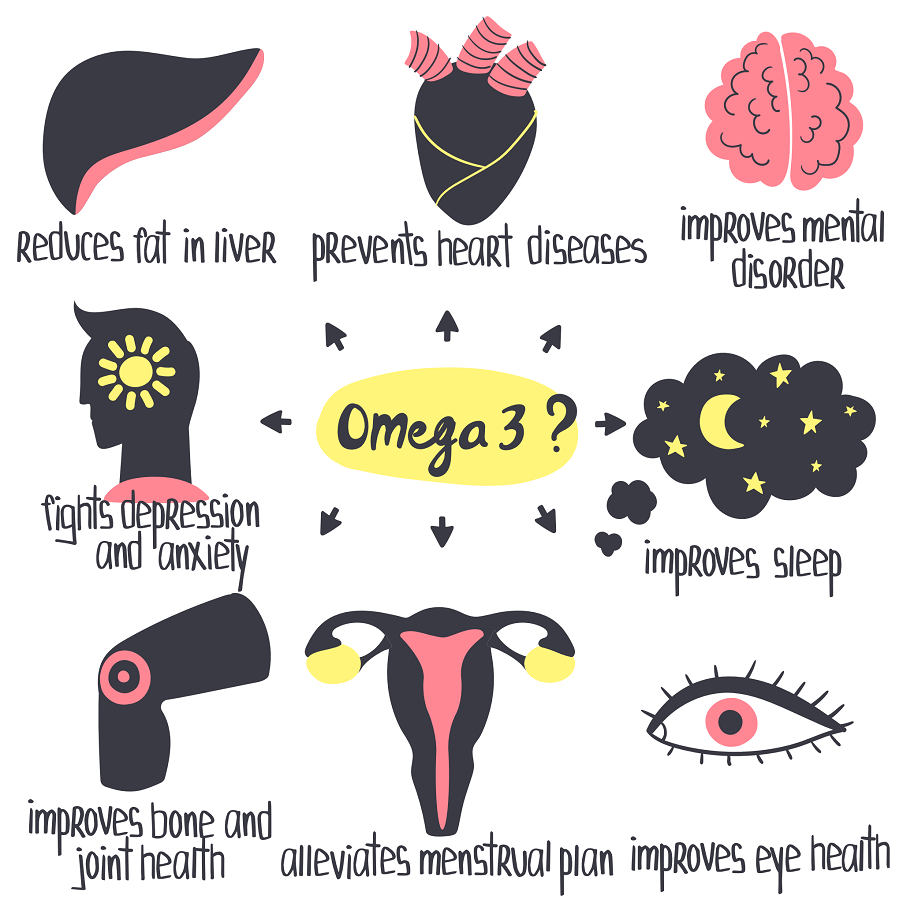 What is Krill Oil Omega-3?
Omega-3 fish oils are an effective health supplement containing the natural fats extracted from fish tissue. It is typically taken from oily fish such as tuna, anchovies, herring and mackerel. However, it's also sometimes produced from the livers of other fish — for example, cod liver oil.
Over the past years, Krill Oil has rapidly gained popularity as an alternative to fish oil. It is made from krill, a small crustacean consumed by whales, penguins and other sea animals. Similar to fish oil, Krill Oil Omega-3 is a strong source of docosahexaenoic acid (DHA), eicosapentaenoic acid (EPA) and astaxanthin, natural omega-3 fats only found in marine life.
Many consider Krill Oil superior to Fish Oil because it contains astaxanthin. In addition to being a powerful antioxidant, astaxanthin is also a natural preservative. This prevents the omega-3 fish oil from turning rancid, which is a common problem with other fish oils.
How is our Krill Oil Omega-3 supplement better than others you may have tried?
Omega-3 is a popular health supplement on the market, but certain manufacturers do not adhere to the same high standards of quality as Feel Younger. There are several reasons why our Krill Oil Omega-3 supplements are superior to similar products.
To begin with, our supplement has a higher concentration of the active ingredients EPA and DHA. These two key nutrients present in fish and marine life oils play an essential role in improving your immune system and counteracting the effects of ageing. Although many Omega-3 supplements advertise 1000mg of fatty oils on the front of their containers, if you look at the list of ingredients on the back, you'll notice they often contain as little as 320mg of EPA and DHA. On the other hand, Feel Younger's Krill Oil Omega-3 supplements have a 500mg portion of EPA and DHA, promising you the healthy, recommended intake of these two nutrients.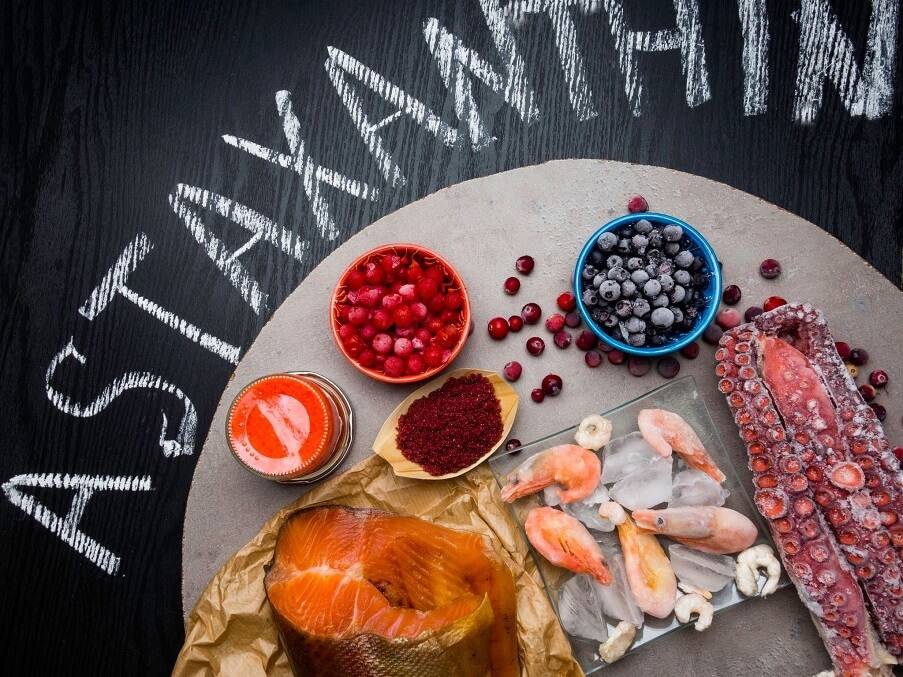 Our Krill Oil Omega-3 supplements also contain another key nutrient: astaxanthin. Studies have shown that astaxanthin activates the white blood cells in your body, improving your immune system. It has also been known to help protect your skin from UV damage.
Feel Younger's Krill Oil Omega-3 supplements also come in softgel capsules. As a result, they're easily absorbed into the body and don't have the unpleasant fishy taste of similar supplements. As is the case with all our dietary supplements, the Feel Younger krill oil capsules are gluten-free and made from all natural ingredients.
How do you take Krill Oil Omega-3?
As a dietary supplement, it's recommended you take one (1) softgel capsule twice a day. For the best results, take your dose 20-30 minutes before a meal with an 8oz. glass of water or as directed by your healthcare professional.
Though omega-3 supplements are generally considered safe, you should check with a healthcare professional before taking them. If you are allergic to fish or shellfish, seek advice from your healthcare professional first.
Fish oil is likely safe for most people in doses of 5 grams or less daily
Fish oil might slow blood clotting. Taking fish oil along with medications that also slow blood clotting might increase the risk of bruising and bleeding.
Pregnant or nursing mothers, children under 18, and individuals with a known medical condition should also consult a physician before using this or any dietary supplement.


Antibiotic Free
Gluten Free
All Natural
Sugar Free
Corn Free
Hormone Free
Bottled in the USA
No Binders
Lactose Free
This product contains: